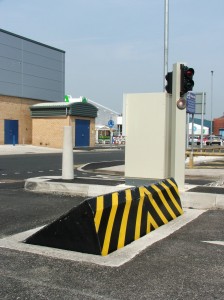 We can offer you:
A free site survey to assess your requirements by one of our experienced engineers who have a vast knowledge of solving security problems and to relate this product to your requirements if a better or more cost effective product would suite your needs he will discuss it with you

We can advise you on The ground works and go through the installation process with you

We can supply diagrams and technical information on cable installations for our products.

We can discuss the methods of operation for this equipment complete with a specification of products required to help with your tender or building design
Call 08450 777 778 for prices or more detail Now
Listed below is more in depth information on our road blocker systems and equipment. If you have any questions at all we would be only too pleased to help so give us a call we are here to help you and your business solve problems, improve your safety and efficiency, and become more profitable.
Automatic road blockers or rising kerbs as they are otherwise known, provide a highly secure method of protecting a roadway against vehicular entry, offering an extremely overt visual deterrent which matches it€™s ability to stop dead any road vehicles attempting to gain unauthorised access to your site.

Automatic road blockers are hydraulically powered by means of a separate heavy duty hydraulic power pack with large capacity fluid reservoir for increased reliability. The power pack and control gear is generally mounted in a steel roadside cabinet, and the actual lifting of the road blocker wedge is by means of hydraulic cylinders, mounted underground within the main structure of the road blocker. The fluid is transferred through large bore steel braided hydraulic hoses, which are professionally made to suit specific site requirements. The hydraulic power pack is available with either a single phase drive motor, or a three phase motor to allow very high frequency of operation. This is ideal for large car parks or busy sites. Our road blockers are hydraulically powered through both the raise and lower cycles, taking much less time to operate than the more common method of operation, which relies on gravity to pull the road blocker into the down position.

The drive over plate or €œDeck plate€ is constructed from 10mm thick steel chequer plate which gives strength, coupled with anti-skid qualities for safety, which is due to the raised pattern on the surface. The flush mounting frame is constructed from mild steel channel section which offers greater strength than traditional box section structures, and the complete assembly is galvanised to ensure decades of protection against rust and corrosion.

The front skirt section of the road blocker is coloured with yellow and black chevrons as standard, which is highly visible and instantly recognisable, however we can offer road blockers in any colour to suit your site €" we would however not recommend dark or dull colours for obvious reasons.

Automatic road blockers are available to operate as fail safe or fail secure. When there is a power failure, a fail safe road blocker will automatically lower whereas a fail secure road blocker will remain in the upright position – to be lowered if required by a release valve located within the roadside cabinet. A road blocker installation can also be connected into a fire alarm system so that the blocker will automatically lower under fire alarm conditions. Our road blockers are custom designed to suit your requirements and can be built in an almost infinite range of widths and lift heights to suit any roadway or level of security.

Another accessory that can be added to the installation is a fire drop key, this is a special switch which is usually installed at high level and can be used to lower a road blocker by the emergency services with a special key, most fire engines carry this key as standard, but we would supply one which could be passed on to the relevant fire officer.

As with all our automatic security systems, hydraulic road blockers can be controlled by any type of access control system, including swipe or proximity cards, audio intercom, radio transmitters, GSM/mobile phone, automatic number plate recognition (ANPR) or a simple button controller, and are generally installed complete with induction loops for vehicle safety and red/green traffic lights to give an indication of when it is safe for a vehicle to proceed.

For more information on the types of access control solutions we can provide, please click here.