Pedestrian Crossing System, Leeds
We recently supplied and fitted a puffin-type pedestrian crossing with puffin demand units, on a private road at Leeds train station in Yorkshire.
Supplied with our 200mm, 3 aspect, Red/Amber/Green signal heads and fixed on our standard height mounting posts, with sun visors over each aspect to protect from sunlight.  Other colour lenses are available, along with smaller or larger sizes (commonly 100mm, 200mm or 300mm) and non-standard lens caps are also available; directional arrows and pedestrian lens caps, to name but a few.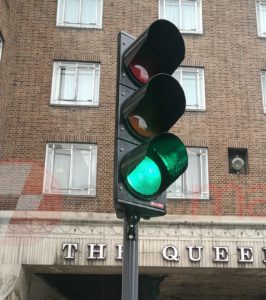 This system was also installed with puffin demand units, to provide pedestrians with the option of the push button to trigger the signal change should traffic become busy, or, whenever required to cross the road.
If you would like any further information on pedestrian crossing systems, or, crossing systems in general, along with any of the products you have seen on our website, please do not hesitate to contact us via any of the below channels;
Telephone: 01254 234248
Fax: 08707 554 600
Email: sales@automatesystems.co.uk
Twitter: @automatesystems
Instagram: automatesystems
Facebook: www.facebook.com/automatesystemsltd