Access Control
Auto Mate Systems Ltd. offer a wide range of access control systems that can be both supplied and installed in combination with any of our barriers, turnstiles, speed lanes etc.  For further information on the systems that we offer and how they can be made to work for you, please read on.
The majority of our access control systems come as either stand alone units, or, as PC linked units.  The difference between the two is that with stand alone units, the cards or fobs are all added directly from the reader/keypad.  On the other hand, PC linked units have a desktop reader linked to the PC, which is used to add the user cards and fobs.
A PC linked system also allows users far more control over access, with users being able to see who and when individuals entered the site, with all information being sent back to a central control point.  Through the use of a network and our PC linked systems, equipment can be very well controlled and all the information can be accessed from any PC with an internet connection.

Proximity Card Reader Systems
Stand Alone Proximity Card Reader
Every user card can be added or removed from the location of the reader.  This provides both maximum security and safety for your site.  Although this system isn't as complex as the PC linked system, it offers a simple and easy to manage solution, without the requirement for PC equipment.
PC Linked Proximity Card Reader

The PC based card reader system works like the above stand alone unit, however cards are added via a desktop reader, with multiple card readers being able to link to one PC. Via the PC system, cards can be added to all the readers at once, or if applicable, can be given access to only certain readers.
The PC system also provides the ability to track and create records of who entered the site and when.

DG500 Digital Keypad System
The simple and easy to use DG500 is a combined digital keypad and proximity card system, allowing for access to the site via both the entering of afour digit keycode, or upon the production of a known proximity card.
The DG500 is offered as a stand alone based unit only, meaning that the keycode can be changed as many times as you want directly from the reader. The accompanying proximity cards can also be added/deleted directly from the unit.
The DG500 is perfect for situations in which you need to provide access to both regular and irregular users alike.
GSM Switches
GSM Switches/Opener Devices operate by installing a device within the equipment, a gate for example, containing a functioning SIM card.  Then, when a vehicle/user drives up to the gate, they simply dial a pre-set telephone number from their mobile phone, which then sends an open signal to the equipment, allowing easy, safe and controlled access.
Push Button Stations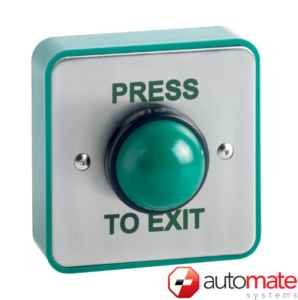 Push buttons are perhaps one of the easiest and quickest ways to allow access 
onto/off a site, and are usually installed into receptions or security gatehouses to control an automatic gate or a barrier.
The button stations usually come complete with a open, closed and latching open button, which is used to hold the barrier in place over long periods of time.
Intercom Systems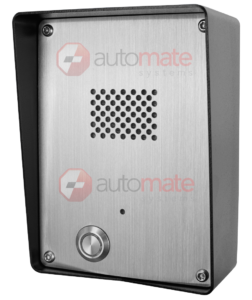 Audio Intercoms
Our Audio Intercom systems can either be provided wired, with cables connecting the intercom to an area such as reception, wirelessly (with a range of up to 100m), or through a GSM system.
The GSM sim card is placed into the unit, allowing the intercom to work like a mobile phone call, perfect when the barriers/gates e.t.c are a long distance away from the control unit – pictured is a 4 way GSM intercom unit, which allows 4 different SIM cards to be inserted, giving the potential for up to 20 different numbers to be listed.
With an audio intercom system, the user would drive up and press the call button on the unit, which would them direct them through to the central control unit (in reception or a security lodge), from there the controller could choose to allow them access or keep the safety system closed.
Video Intercoms
Our video intercoms can only be provided through a wired connection. The systems allow the controller to view exactly who is trying to gain access to the site, providing maximum security.
The video system works in exactly the same way as the audio intercom system does.
Our intercom systems can be combined (and usually are) with any other of our access control systems to provide a complete access control solution, providing control over who enters your site for both regular and irregular users.
Radio Fobs
Our Radio Fob systems work exactly like our proximity card readers and can be either stand alone or PC linked. The user would simply approach the barrier/gate/turnstile e.t.c and press a button on the fob. This would then send a signal to the receiver inside the unit, doing away with the need for a mounting post, and the barrier/gate/turnstile would open.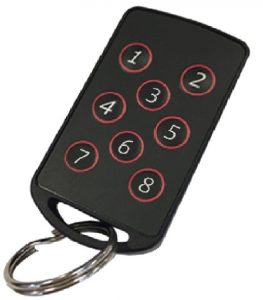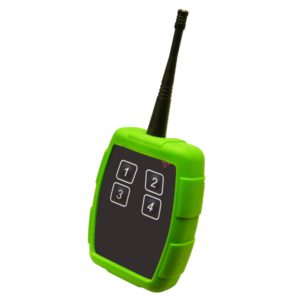 With numerous fobs available, up to a range of 1000 metres, a radio fob system provides complete ease of access and entry onto your site.  We also have fobs that are suitable for industrial use (pictured).
The PC linked system contains individually coded fobs, the actions of which are logged onto the provided computer
software. Up to 1300 events are logged in the database and can be accessed at any time, providing you with both maximum safety and important data.
Coin Acceptor Systems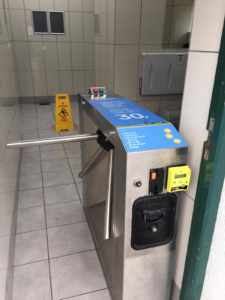 Auto Mate Systems Ltd can also provide a coin acceptor system, which when the correct change is inserted, allows entry into the site.
Our coin acceptor systems are often installed on tripod turnstiles (as in the image to the left) to secure entrances to toilets or gym facilities.
Another option could be our token system, which works like a coin reader system however small metal tokens are used to allow exit/entry onto the site, which are then collected in a token hopper, ready to be re-issued. We often install these kind of systems on shop car parks, in which vehicles can only exit the site after receiving a token from a certain shop.
AMS Onyx Payment Terminal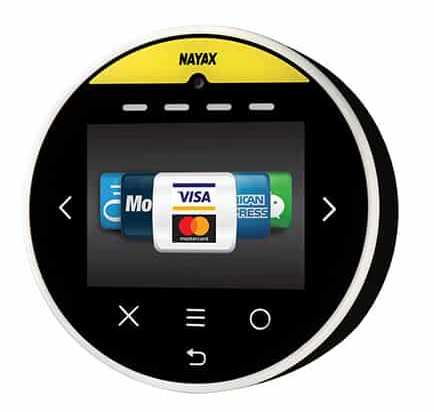 A new addition to the Auto Mate Systems portfolio in recent years is the AMS Onyx Payment Terminal, the upgrade from our VPOS terminal.  Available to be installed on turnstiles which require payment for entry, the Onyx payment terminal allows contactless card payment at the entry point, saving the customer from requiring cash payment.  With cashless payment becoming increasingly common, along with society using cash less and less frequently, the AMS Onyx Payment Terminal is the perfect, up-to-date solution for your entry turnstiles.
Bio-metrics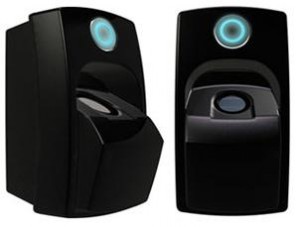 Our Bio-metric Access Control systems are extremely durable, vandal resistant and long lasting, having been put through the test on numerous construction sites around the UK. Often installed alongside turnstiles, they provide a perfect solution for companies looking to allow and monitor access in uncertain weather conditions.
Complete with a thermostat heated sensor, identification in less than a second, a user friendly interface and the ability to detect fingerprints in cold, wet and dirty conditions, the bio-metric systems provide site security to the highest level.
Induction Loops
Auto Mate Systems Ltd. also offers induction loops as a means of sending an open or close signal to any of our pieces of equipment.
The loop's are cut into the ground, a certain distance away from the equipment, and when a vehicle drives over them, a signal is sent for the piece of equipment, for example, an open signal to the barrier or a change signal to a set of traffic lights.
Automatic Number Plate Recognition (ANPR)
Ensure maximum security on your premises with our modern ANPR (Automatic Number Plate Recognition) system.  Our ANPR cameras can b

e installed to use as entry and/or exit control, allowing pre-programming of vehicle registration plates to prevent unwanted entry on to your site.  The cameras can also be used for live monitoring as well as number plate recognition.
Restriction or allowance for different groups and/or individuals can be set, including time settings.  Full event logs can be stored and viewed and this can all be done via software installed on to your PC or computer system.
---
We can offer:
Supply and installation of a fully operational and integrated access control system
A full 12 month warranty with all installations
Various levels of maintenance contracts to suit your requirements (all at competitive rates)
A design solution for your particular site and requirements
Diagrams and technical information on cable installations for our products and systems
A specification of products required to help with your building design
For any further information, or, a quote on any access control or access control system, please do not hesitate to get in touch via telephone, email or through our social media channels;
Telephone: 01254 234248
Email: sales@automatesystems.co.uk
Twitter: @automatesystems
Instagram: automatesystems
Facebook: www.facebook.com/automatesystemsltd