Automated Barrier Systems
Auto Mate Systems Ltd supplies and installs a wide variety of automatic barriers. We take pride in only installing the best automation equipment which is why we are the certified UK distributor for RIB Automation equipment, a manufacturer known for reliability, ease of use and effectiveness. We also supply and install TAU equipment for the same reasons. We offer car park barriers, industrial barriers, high security barriers and cantilever barriers with more information available in the links above. With over 20 years of experience in the industry, our experience, expertise and focus on quality allow us to provide the best solutions, tailored to your sites requirements.
We have installed electric barriers for a number of high profile clients, many of whom are listed on our homepage. Our barriers can be operated over 1000 times a day and can be combined with a range of access control options, installed by expertly trained engineers to the highest standards.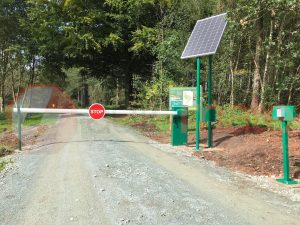 All of our automatic barriers are supplied with safety equipment (consisting of either safety induction loops or safety photocells) and Stop/No Entry signs as standard, as well being fully IP rated, giving you peace of mind that your barrier is fully safe and secure.