Automatic Industrial Barriers
The Industrial Barrier is the largest Heavy Duty Automatic Barrier we have available.  It is called the heavy duty industrial barrier because it is designed for large industrial premises with entrances of up to 12 metres (or 24 metres using two barriers, as seen in the picture above).
The heavy duty industrial barrier has a powerful, industrial rated three phase motor with heavy duty gear box.  In the event of a power failure the barrier can be easily raised using the supplied hand crank. The boom is extruded aluminium and comes in two parts with a centre clamp for ease of transportation.  The boom has a limit of 10 metres in length when fitted with a bottom skirt, and has a full length of 12 metres without the skirt.
The ideal use of this barrier is factories or quarries, where manned security or a weighbridge attendant operate the Automatic Barrier for traffic management, by holding back vehicles until they are ready to approve their entrance to site.
All our Heavy Duty Automatic Industrial Barriers are fully IP rated, giving you peace of mind that your barrier is safe and secure.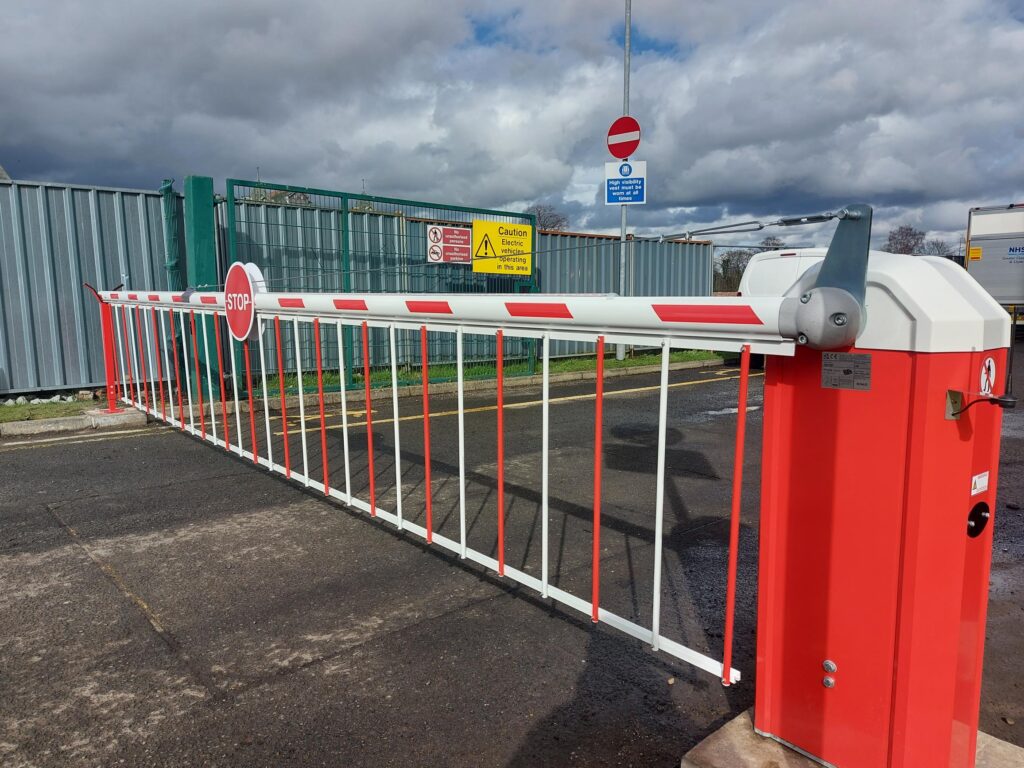 Our Industrial Barriers:
Automate Systems Ltd. takes pride in only installing the best automation equipment which is why we are the certified UK distributor for RIB Automation equipment, a manufacturer known for reliability, ease of use and effectiveness.
All Automatic Industrial Barriers from Automate Systems are fitted, as standard, with heavy duty gear boxes and motors, providing you with the capacity to cope with thousands of operation cycles daily whilst still maintaining fast opening and closing times, designed to increase traffic flow whilst preventing tailgating.
All of our automatic barriers come with safety devices as standard, consisting of either safety induction loops or safety photocells.
---
For any further information on automatic industrial barriers or for a quote on automatic industrial barrier supply & installation, please do not hesitate to get in touch via telephone, fax or email;
Phone: 01254 234248
Email: sales@automatesystems.co.uk