Coin Operated / Payment Turnstiles
Auto Mate Systems Ltd. can provide both half height and full height coin and card operated turnstiles to help generate revenue at your site.  We also offer contactless/card VPOS payment terminals.  With a wealth of experience installing turnstile systems, our installation sites range from central London bus stations to remote national parks locations in the Lake District and Peak District.
We can help to design, supply and install a system that creates a robust, reliable and economical revenue stream, helping to maximise potential income from your existing assets.  Often installed at the entrance of public toilets and bathrooms, these payment collecting turnstiles are a reliable way of helping you generate revenue where the cost of providing a service needs to be recovered.
Our Coin Operated / Payment Turnstile Systems:
We can install both full height and half height turnstiles with coin operation, pay-on-entry systems and contactless/card payment consoles.  Pay-on-entry systems are where a pre-set monetary value is needed before access is allowed.  The turnstiles can be set to the value of any amount you require, and, if needed, we can provide change machines to go alongside this.  We can also link these systems with other products, such as a DDA Access Gate, to allow disabled access into your facilities, or we can link it to existing staff access control, negating the need for staff to pay.  Other links are available, these are just some of the most common, linked installations that we have previously completed.
Our turnstile's have a stainless steel or mild steel body, which can be coated in any RAL colour of your choice.  They are easily integrated with railings and barriers, providing the same aesthetics throughout a specific area.  Each turnstile also has a drop arm functiona
lity meaning the arms can drop, if needed, to create a free entry-exit system, usually in case of emergency.
A range of access control solutions are available and the systems allow free rotation on power failure or fire alarm to ensure safety.  They can also be alarmed with under and/or over sensors, meaning that an alarm will sound if somebody tries to jump over or go under a turnstile.  A superb solution for any turnstile that requires payment.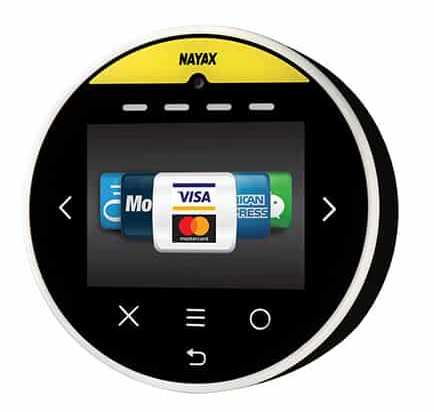 As mentioned, we are now able to offer contactless payment on our turnstiles.  With the card reader unit installed by ourselves, the software is connected to a remote server to allow instant payment, with either swipe card or contactless.  With cash transactions becoming less and less frequent in modern day society, the modern turnstiles can meet the demands of customers who will now, more often than not, be cashless…so why not make your turnstiles cashless too?
At Auto Mate Systems, we can offer:
Supply and installation of a fully operational and integrated coin operated turnstile system
A full 12 month warranty with all installations
Various levels of maintenance contracts to suit your requirements (all at competitive rates)
A design solution for your particular site
Diagrams, drawings and technical information on cable installations for our products
A specification of products required to help with your building design
For any further information on coin operated turnstiles or to receive a quote for a coin operated turnstile system that suits your requirements, please do not hesitate to contact us via telephone, fax or email;
Phone: 01254 234248
Email: sales@automatesystems.co.uk