Half Height Turnstiles
Automate Systems Ltd. can supply and install a variety of half height turnstile systems; these include Tripod Turnstiles, Coin Operated Turnstiles and DDA Compliant Glass Swing Gates. We also offer a Biometrics access control system.  All of the above are detailed below: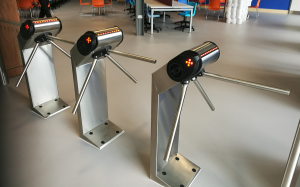 Tripod Turnstiles
Tripod turnstiles are ideal where aesthetics are required. These offer security and pedestrian monitoring to an area where restrictions are required to prevent unauthorised access, whilst still maintaining an open plan feel. For example, such areas may be council offices, business reception areas, gyms, banks and financial institutions etc. They also work well with access control software for reporting for fire or time and attendance. The tripod turnstiles come in various materials and designs. The most popular is a polished stainless steel turnstile, however, they can be mild steel and powder coated, or the tripod turnstile housing can be clad in timber to give a warmer appearance. Some of the optional features are drop down arms when a fire alarm is raised, and/or anti-jump-over alarms. This is where a beam would detect a person who contravened the system and would then set off a sounder system.
Coin Operated / Payment Turnstiles
Our Tripod turnstiles can be supplied with any of our pay on entry system's – this includes coin operation, card/cashless operation or a combination of both.  A preset amount is then programmed and when the correct amount has been totalled, it activates the turnstile allowing access.  We have often installed these type of turnstiles in locations such as public bathrooms, bus stations and train stations.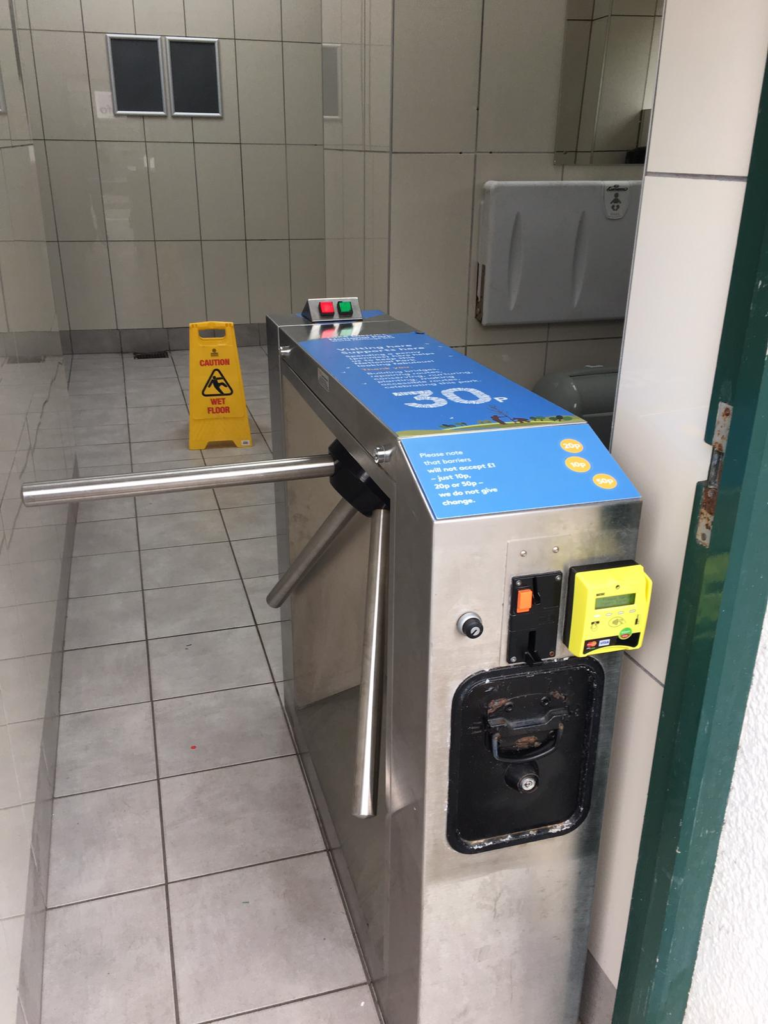 DDA Compliant Glass Swing Gates
Our glass swing gates are fully DDA compliant and can be operated through numerous access control methods, commonly via push button or a card reader system.  The gate has a stainless steel column and is fitted with toughened safety glass.  It can rotate through 180 degrees and may be activated to open away from the person using the gate.  It also has a break out facility so that in an emergency, the gate can be pushed open and it will stay open until re-activated, when it will then automatically re-set itself.  The gate is also fitted with a break out alarm, meaning if the gate is forced open, it triggers an alarm.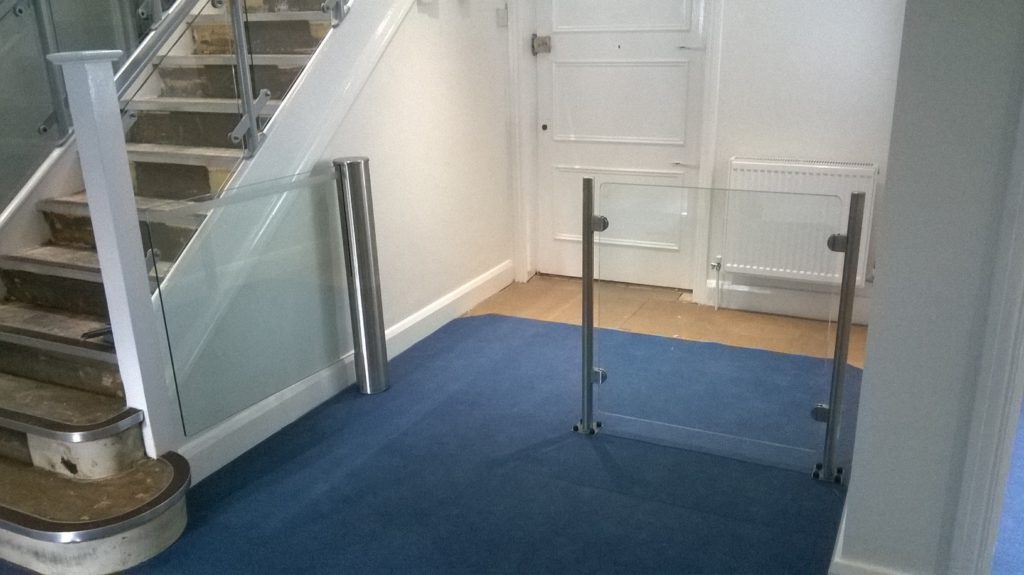 Biometric Turnstiles
Turnstiles fitted with Biometric readers offer speedy and secure access for sites that have numerous users and where the turnover of staff for the issue of cards or fobs is so great it becomes a problem. With Biometric access controls, each person's finger print is read which, along with an assigned pin code, giving security of the highest level. This prevents passing cards or fobs back through the turnstile for someone else to use. Linked to access control software on a PC each individual can be logged on and off site and fire reports or parole can be generated from the information. Individuals can be monitored and added or deleted whenever required. The Biometric Turnstiles are often used on building sites or large industrial plants and places where an unmanned higher security level is required.
We can offer:
Supply and installation of a fully operational and integrated half height turnstile system
A full 12 month warranty with all installations
Various levels of maintenance contracts to suit your requirements
A design solution for your particular site
Diagrams and technical information on cable installations for our products
For any further information, or, a quote on our Half Height turnstiles, please do not hesitate to get in touch via telephone, email or through our social media channels;
Telephone: 01254 234248
Email: sales@automatesystems.co.uk
Twitter: @automatesystems
Instagram: automatesystems
Facebook: www.facebook.com/automatesystemsltd