Car Park Barriers, Car Park Gates & Electric Car Park Barriers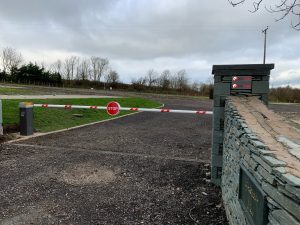 Auto Mate Systems has been leading the way in the provision of car park barriers for many years.
The main reason for this is because we recognise that in the modern environment, car parking barriers are necessary for the entrance at any  new residential, industrial, commercial or leisure development.
Car Park Barriers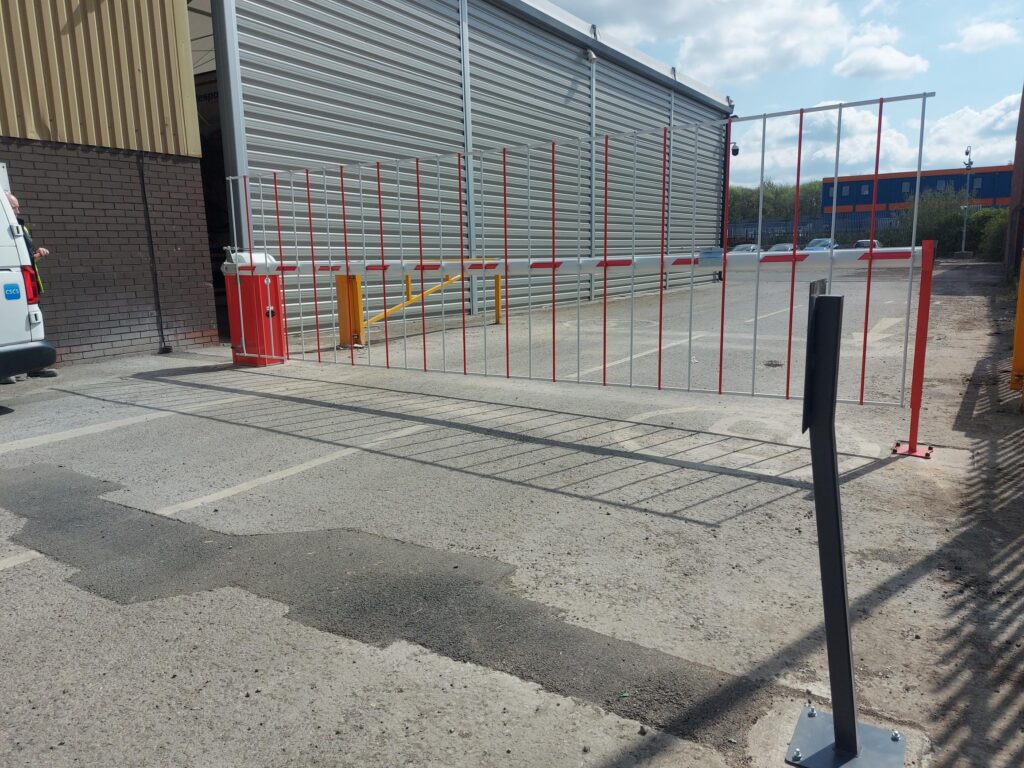 With ever increasing usage of cars on our roads in the UK, automatic barriers for parking provision is essential in order to provide the essential control required to ensure efficient operation of all parking facilities.
Auto Mate are pre-eminent among vehicular parking barrier suppliers because it can offer an unparalleled array of rising arm, retractable flap, automatic raise arm car parking barriers in its armoury!
Organisations who find car park control costs a key issue in their investment decision making, will find Auto Mate's prices the best value for money in the industry, for the quality and after service that we offer.
Popular Car Park Barriers
AMS HD Traffic Barrier –

Up to 8m beam length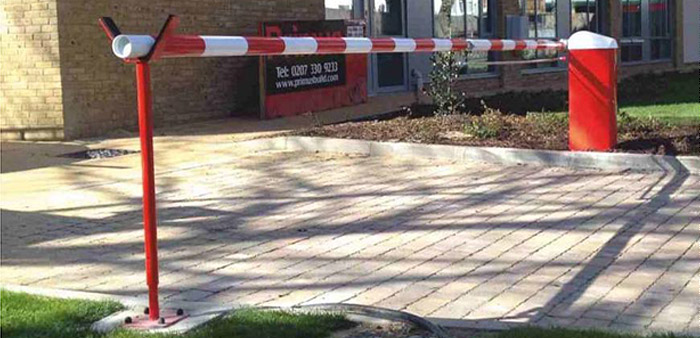 The AMS HD Barrier is the largest, heavy-duty barrier and security posts that is available. It is purely designed for industrial premises, with entrance of up to 9 metres and they are fully IP rated. Available in lengths of up to 8 metres with a bottom skirt, and, up to 6.5 metres with both top and bottom skirt.
The HD Barrier comes with a heavy-duty pillar block bearing and corporate colours are available, upon request. All are fully IP rated, giving you peace of mind that your barrier is safe and secure.
Removable, Cast Aluminium Hood
Security posts
100% Continuous Duty Cycle
Single Phase Supply, 3 Phase Motor
Motor & Two Stage Gearbox Direct Drive
Inverter Driven
Adjustable Speed, Acceleration & Deceleration
No Springs/Counterweights Required
Pre-Wired Loop Detector Base for Single Channel Safety & Entry/Exit Control
Heavy Duty Roller Plunger Limit Switches
Programmable Control Panel – c/w Fault Diagnostic on Screen Display
Manual Override in case of Power Failure
Comes Complete with M16 Anchor Shield Bolts
Technical Specification – Swing Arm Barriers Height etc
Maximum boom, arm or beam length
Up to 9m
Boom gates diameter
100mm x 80mm Oval
Opening/closing
4 to 9 seconds (adjustable)
Drive unit
3 phase motor and wormed gearbox
Power supply
Single phase 230v, 50Hz, 5 amps
Finish
Zinc plated and polyester powder coated
Cycles
100% continuous duty rating
Dimensions
506mm x 506mm x 1020mm

(centre of pivot)

IP Rating
IP57
Settings
Programmable configurations, as standard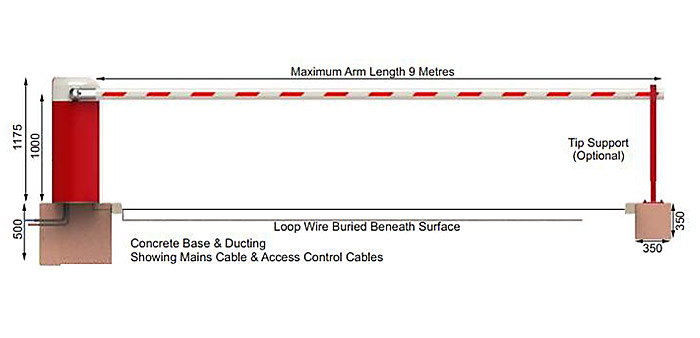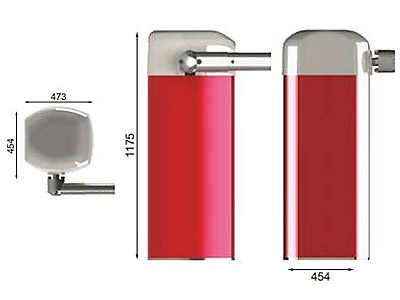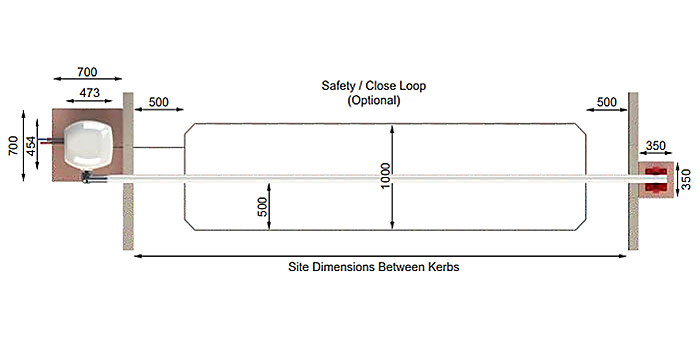 Optional Extras
Pogo Tip Support
LED Boom Lights
Solenoid Lock
Safety Sensing Edges
Lorry Height Stop/No Entry Signs
TAU Luxe Automatic Traffic Barrier –

Up to 7m beam length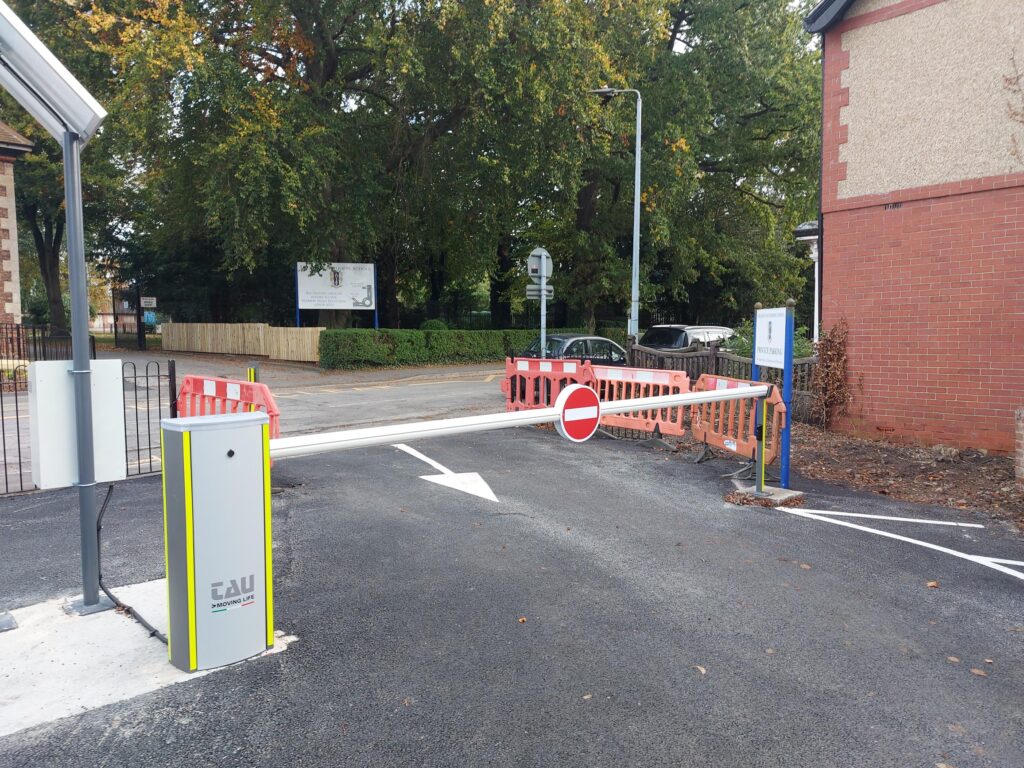 Auto Mate Systems TAU Luxe barrier is a cost effective and safe way of managing the traffic and vehicles to a designated area of your site. Available with a barrier boom length of up to 7 metres, the barrier houses a low voltage DC motor and will still work during a power outage, due to its optional battery power backup.
As with all our barriers, the TAU Luxe barrier will be installed with all the relevant safety features and can come with optional safety photo cells for increased protection. The mains power supply allows for intensive use, with obstacle detection and crush prevention as well as optional timers and proximity access control system, along with safety devices including induction loops and safety edges.
The TAU Luxe barrier is built in accordance with the EN 12445-12543 standards (produced in Italy). As with all Auto Mate Systems car park barrier systems, there are a number of different types of access control to choose from.
Installation locations for this type of barrier vary hugely, due to the fact that they can also be installed with solar panel supply, as well as mains. Locations include secluded and remote countryside car parks in the Highlands of Scotland, roads in remote forest locations and businesses that struggle to locate a mains power supply in a location near to where the barrier would be installed.
The twin spring system with security posts is easily adjustable according to the length of the boom gates, with no additional tools required. Different models of springs are available, according to the features of the installation.
Plastic safety cover design to protect the movement of the boom from shearing.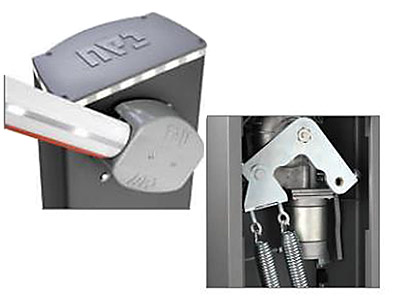 Technical Specification – Swing Arm Barriers Height etc
| | |
| --- | --- |
| Maximum boom, arm or beam length | 7 metres |
| Frequency | 50 – 60 Hz |
| Power Supply | 230 V AC ±10% |
| Power Rating | 300 W |
| Motor Power Supply | 18 V DC |
| Absorbed Current | 2.8 A |
| Maximum Torque | 300 Nm |
| Reduction Ratio | 1/512 |
| Minimum Operating Time | 6 seconds |
| Degree of Protection | IP 44 |
| Duty Cycle | 100% |
| Operating Temperature | -20°c + +55°c |
| Min. Width of Passage Clearance | 4 metres |
| Max. Width of Passage Clearance | 7 metres |
| Weight | 70 KG |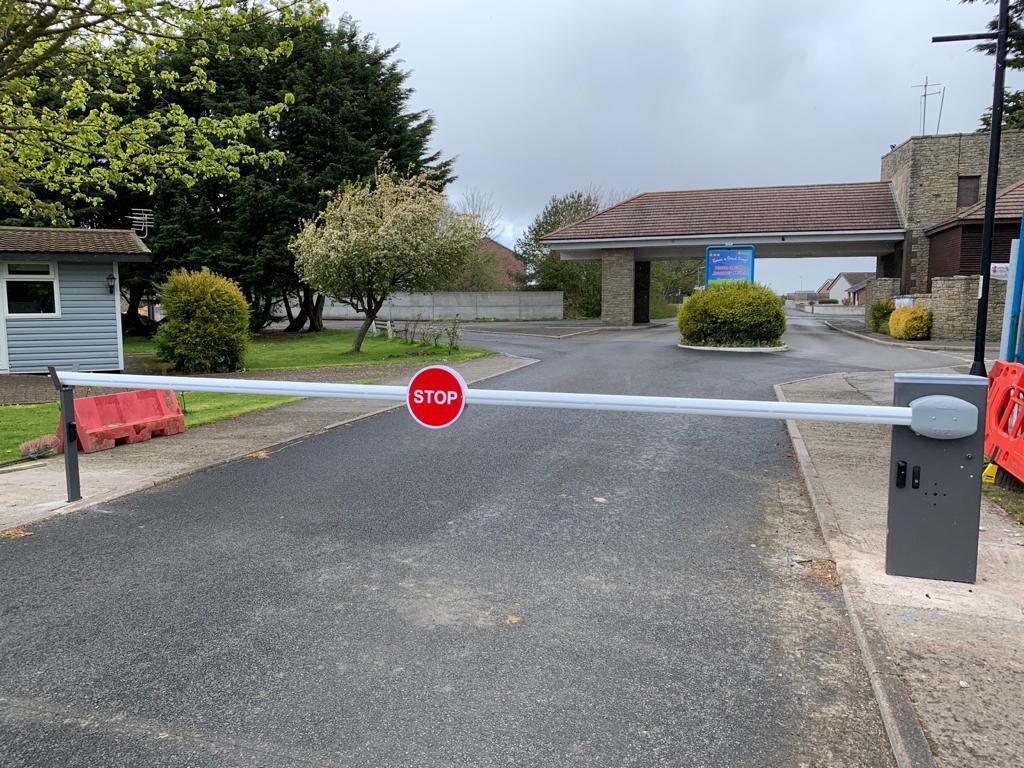 Popular Barrier Product Datasheet Manual Downloads
See more parking barriers here
Car Park Barrier Systems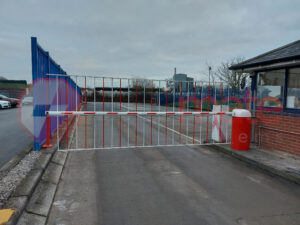 In recent times, the need to minimise employment costs means that the overhead cost of car park attendants is hard to justify.
Consequently, most companies realise that cost effective car park barrier systems are needed to ensure the safety and security of pedestrians, cars and other motor vehicles in its parking facilities.
That's why an automated system is ideal for providing a cost effective and reliable solution for safe site access and egress.
Economical Car Park Barrier Systems UK Clients Trust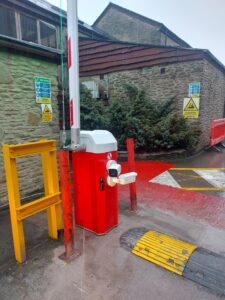 Auto Mate provide superb barricades which offer unprecedented design and versatility for any number of traffic management needs.
Where secure operation is important, we offer RFID (Radio Frequency Identification), LPR (License Plate Recognition) and ANPR (Automatic Number Plate Recognition) technology which utilises convenient vehicle number plate recognition or "card swipe" techniques which permit authorised access to your facilities.  In addition, this technology enables real time tracking and recording of vehicle movements.
Electric Car Park Barriers Posts

Nonstandard Colours, Height Restrictor, Environmental Protection & Energy Saving
When there is a need to blend in with the surrounding environment, Auto Mate offer a colour matching facility and the possibility of a height restrictor.
Additional protection can also be applied on all barriers for use in a harsh industrial environment or installations prone to a severe climate.
Solar powered systems provide a handy option for energy conscious organisations.
Reliable Car Parking Barriers & Security Posts

Heavy duty motors and gear-boxes are standard fittings on Auto Mate's barriers, giving them their outstanding ability to withstand thousands of operational cycles every day.
Vehicle "tail gating" is discouraged with the 3 metre long boom and its sub-3 second opening/closing cycle. Barriers with longer booms have slower operational speeds for safe operation.
Space permitting, the ideal set up includes 2 separate arms, one for site access and another for site exit. Such a set up provides really secure management of site vehicle movements.
Complementary fittings are also available to act as a deterrent to prevent people walking beneath the safety boom and / or increase their visibility including "skirts", boom lights and STOP signs.
The Best Value Car Park Gates Bar None
Automate's systems can be deployed as standalone car park entry systems or complemented by other applications like visitor processing and secure access control measures.

Every system in the Automate barriers range is flexible in its application, has a superb fast & easy operating action, is simple to operate and also provides years of reliable trouble free operation, day in and day out!
Whether you call them parking gates, pay on foot barriers or car park gate systems, Auto Mate Systems can be used to secure any public or private property such as:
Manufacturing facilities
Commercial parking areas
Supermarket parking
Leisure or residential parking facilities
Controlled parking areas for educational establishments, healthcare facilities and hotels
Employee parking zones
So if you're looking for reliable, economical and versatile barriers with prices that can be tailored to any budget, look no further than Auto Mate!
Follow this link to see our full capability of automatically controlled barricades and swing arms using this link for other car park barriers.
Please also check out our our car park payment systems too!
For any further information on car park barriers or for a quote on your very own car park barrier installation, please do not hesitate to get in touch via telephone, fax or email;
Phone: 01254 234248
Email: sales@automatesystems.co.uk
---