Turnstiles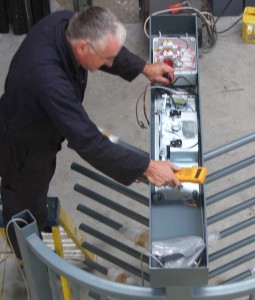 Listed below is more in depth information about our turnstile] equipment. If you have any questions at all, we would be only too pleased to speak to you, so give us a call to help you and your business solve security problems and improve your safety, efficiency and profitability.
Auto Mate Systems Ltd manufacture all full height turnstiles to the highest standards using quality components and materials giving unrivalled robustness and proven reliability that requires very little on going maintenance for years to come.
When high levels of pedestrian access control and/or reporting for fire regulations are required, then Auto Mate Systems Ltd can provide a range of security turnstiles and software controlled card access systems which allow improved levels of control and security of access. This turnstile system enables individual identification and anti pass-back facilities, so if some one enters the site, they cannot pass the card passed through the turnstile to allow some-one else to enter. Thereby preventing inaccurate reporting should an incident occur.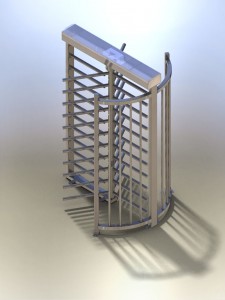 This is ideal in unmanned locations as security turnstiles provide maximum security together with a safe and secure image, and releases security staff for other duties.
We produce a complete range of full height turnstiles and DDA compliant pedestrian gates. The different types and materials used in the construction range from mild steel galvanised for fence line turnstiles, to mild steel powder coated for internal turnstiles, or a combination of both, and including the fully polished stainless steel turnstile. Full height turnstiles come in various sizes and finishes; options include, power coated, primed and painted, galvanised or stainless steel.
For more information on the types of access control solutions we can provide, please click here.

High Security Turnstiles

High security turnstiles are full height, with a 90 degree, four arm rotor, which minimises space for pedestrians to pass through. This prevents two people squeezing into the space and entering together. The turnstile is also fitted with an anti-climb canopy and while it can be bi-directional, it normally fails in the locked position, so that in the event of power failure, the mechanism may be manually released with a key. A high security turnstile would probably be fitted with a more secure access control system such as biometrics.
Fence Line Turnstile

This turnstile is fitted with a 3 arm, 120 degree rotor, which allows pedestrians a little more space to carry a bag or laptop through the turnstile. The mechanism whilst bi directional, can be set up for fail free or fail locked with key override to lock or release in the event of power failure. An anti-climb canopy can be fitted as an option. The turnstile comes with mounting plates for access control card readers or intercoms. The fence line turnstile finish is galvanised as standard, but can be powder coated to your choice of colour
 

Dual Lane, Full Height Turnstile

Dual lane turnstiles can be made up from three arm rotors or four arm high security turnstiles. The footprint of a dual is slightly less than two single turnstiles, as the two rotors interlock in the centre. The dual full-height turnstiles have the same facility as the single full-height turnstile, and can be fitted with anti-climb canopies and card reader mounting plates.
 

Tripod Turnstiles


Tripod turnstiles are ideal where aesthetics are required. These offer security and pedestrian monitoring to an area where restrictions are required to prevent unauthorised access, whilst still maintaining an open plan feel. For example, such areas may be council offices, business reception areas, gyms, banks and financial institutions etc. They also work well with access control software for reporting for fire or time and attendance. The tripod turnstiles come in various materials and designs. The most popular is a polished stainless steel turnstile, however, they can be mild steel and powder coated, or the tripod turnstile housing can be clad in timber to give a warmer furniture style appearance. Some of the optional features are drop down arm on fire alarm, or anti jump over alarm. This is where a beam would detect a person who contravened the system and would then set of a sounder system.
Half Height Turnstiles

Half height turnstiles have mostly been replaced by tripod turnstiles, even at sports stadiums. However, Auto Mate systems Ltd can still provide the half height turnstile with three paddles and 120 degree rotation. The half height turnstile has the same footprint as the full height turnstile but is ideal for entrance to foot ball grounds or fairs where a count is required and a fee needs to be taken.
Coin Operated Turnstiles

Both tripod turnstiles and full height turnstiles can be supplied with Auto Mate systems pay on entry system where a a pre set amount is needed before entry is allowed. This could be from twenty pence upwards and when the correct amount has been totalled it activates the coin operated turnstile allowing access. The most popular places for this equipment is public toilets in shopping malls and Train and Bus stations. Where the cost of providing a service needs to be recovered.
DDA Pedestrian Gates

Turnstiles are not suitable for access by wheel chair users. Where conformity to the Discrimination Disability Act, a pedestrian gate can be supplied by Auto Mate Systems Ltd. This is a fully automatic, full height gate and can be operated from a card access system, radio fob, or a disabled person's large button. This will depend upon the level of security required. The gate can also be fitted with an intercom or video camera so that the gate can be activated remotely if required. The gate is also useful if the area has to be evacuated when the fire alarm is activated as the DDA Gate can be linked to the fire alarm system which will open automatically or have a local break glass to activate it.
 

DDA Compliant Glass Swing Gates

The glass waist height swing gate supplied by Auto Mate Systems Ltd, is fully DDA compliant and can be operated by either a push button from reception or a card access system. The gate has a stainless steel column and is fitted with toughened safety glass. The glass gate will rotate through 180 degrees so it may be activated to open away from the person using the gate. It also has a break out facility so that in an emergency the gate can be pushed open and it will stay open until re-activated when it will automatically re-set itself. The glass gate is fitted with a break out alarm so if it is pushed open an alarm sounds.

This glass gate is of a design that will enhance any prestigious building or reception area.
Biometric Turnstiles

Turnstiles fitted with biometric readers offer speedy and secure access for sites that have numerous users and where the turnover of staff for the issue of cards or fobs is so great it becomes a problem. With biometrics each individuals palm is read which is a unique identifying feature, along with that persons individual pin code giving security of the highest level. Preventing passing cards or fobs back through the turnstile for some one else to use. Linked to access control software on a PC each individual can be logged on and off site and fire reports or parole can be generated from the information. Individuals can be monitored and added or deleted when ever required.

The Biometric Turnstiles are used on Building sites or large industrial plants and places where an un-manned higher security level is required.

For more information on the types of access control solutions we can provide, please click here.

We can offer you:

A free site survey to assess your turnstile requirements by one of our experienced engineers, who have vast knowledge of solving security turnstile problems and are able to relate this product to your needs. The engineer may feel a more suitable and cost effective product would better suit your project, and would discuss the options available with you.
We can also advise you on civils/groundworks, provide drawings, and talk through the installation process with you.
We can supply drawings and diagrams along with all the technical information and cabling details for the Turnstile you choose.
We can discuss the methods of operation for security turnstiles and provide a specification of the products required to help with your tender or design.

0

Call 08450 777 778 For Prices Now